Donate
MDF programs enhance the lives of people living with myotonic dystrophy (DM), and maximize research focused on finding treatments and a cure for this disease.  Your contributions help us to deliver essential support and information to patients, families and the medical community, fund our research grants, raise awareness, and build research support programs. We couldn't do it without you.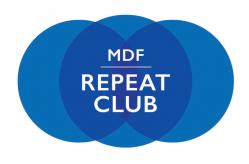 NEW: Join the MDF Repeat Club, our monthly donor program, and become an ongoing part of our work for Care and a Cure. Click here to set up your recurring gift. 
Please donate today - and make a difference for the tens of thousands of people living with DM.
Donate Online
MDF uses Network for Good to process your credit card donations online.  We accept VISA, Mastercard or American Express.  You can support specific events, or make a contribution on behalf or in memory of individuals or families.  You can also set up recurring donations if you prefer.

Donate by Mail
Make your check out to Myotonic Dystrophy Foundation (or MDF) and send it to:
Myotonic Dystrophy Foundation
P.O. Box 29543
San Francisco, CA  94129
Corporate Matching Gift Programs
Your company's corporate matching program can double the impact of your gift. Ask your employer today, or call MDF at 86-myotonic (866-968-6642) for more information.
Other Donation Options
Interested in donating to MDF via a gift of stock, planned gift or other option? If so, please contact us at 86-myotonic (866-968-6642) or via email at info@myotonic.org for more information.  
The Myotonic Dystrophy Foundation is a 501(c)3 non profit public charity (click here for a copy of our IRS non profit status letter). All donations are tax-deductible to the full extent allowed by law.  You will receive a tax receipt from MDF acknowledging your donation either online or by mail.  The MDF IRS tax EIN number is: 20-5014628.